Barcode and EZ shipping label printing system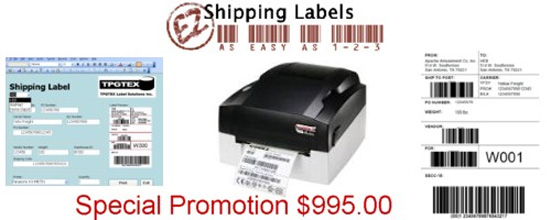 You will love our system. We provide you with everything you need to start printing professional looking labels today. Starter Package includes thermal printer, label design program, EZ Shipping label application and labels .
How does the EZ shipping labels and barcode system work?
The system was designed with you in mind. It is very simple to operate.
Choose the desired shipping label format from the drop down list. (exp: Walmart)
Enter the information in each box.
Click the print button and tell the program how many labels you wish to print
YOU ARE DONE!
Who should get the EZ Shipping Label System?
The EZ Shipping label application was designed for businesses that are required to label their cases with special shipping label as per customer's request.
The EZ shipping label system comes with several templates. Additional label formats can be created for you. The Shipping label template includes pre defined fields for:
zip code
carrier name
vendor number
weight
various barcodes required by the customer
and many more fields.
Additional fields can be set up and added as needed.
No special set-up is required.
You can be up and running with in 30 minutes.
Printer Specs
Exclusive "Auto-Adapt" sensor control for accurate indexing on all materials.
0.5" Ribbon Core & 110M Ribbon Length.
Compatible with most major brand name labels and ribbons.
Easy-load label and ribbon system.
fast label printing using USB 2.0.
2MB Flash memory stores many label formats, graphics and fonts.
Optional: Ethernet or RS-232 connectivity interface.
Upgrades for other higher quantity printer is available for additional charge.