Food Labeling System
Affordable database driven food labeling System!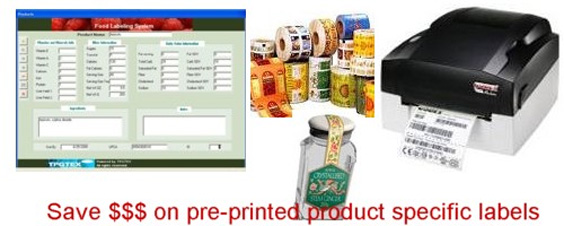 Now you can also have professional looking primary labels on your specialty food products. Print your nutritional information, ingredients, and barcodes on Primary labels* with this user friendly system. This system is designed for food producers and manufacturers with several product varieties, it can be a challenge to maintain an inventory of every label demanded by production. Instant label printing with TPGTEX Food Labeling System ensures that the correct label is always available, and low cost-per-label keeps it affordable.
How does the food label system work?
The system works with either blank labels or pre-printed primary labels that are NOT product specific.
Enter the Product Name and Nutritional Value as well as UPC A barcode into the food labeling software application.(Once the product information has been entered, it never has to be done again.)
Click on the print button and tell the program how many labels you wish to print
YOU ARE DONE!
More about the food labeling software application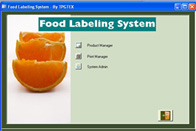 The Food Labeling application was created with you in mind. It includes a simple to understand menu.
The product information includes pre defined fields for: Vitamins and Minerals, Fat content, Daily Value of vitamins and mineral as well as some custom defined fields.
What does the food labeling system include?
Product Manager: Database driven software application.
Label Design Program with an incredible amount of features and capabilities, including printing in several languages as well as printing barcodes on the fly.
Two pre-programmed templates designed per your specification.
Thermal Transfer Printer capable of high quality printing.
Installation: One hour remote installation support.
Customization: The program includes many features. However, if you require additional customization - those can be done for you.