What are Barcodes
Barcodes are stored information that can be read by a barcode reader.
Barcodes were created to help us (humans) do our work faster. Using Barcodes we are able to quickly access information about products and store that information in databases. The information can then be used to track inventory, create shipping labels, sell products in retail environment and even get warranties.
Which barcode is being used depends on what information we want to store and how we intend to retrieve that information.
The drawing below illustrates one way we use barcodes.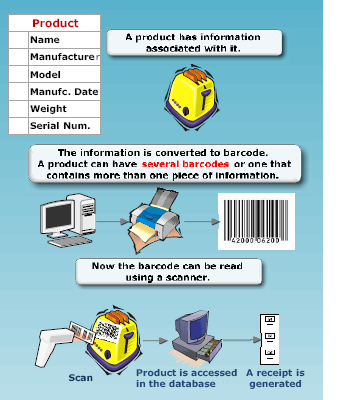 As you can see in this illustration, a product has many pieces of information. This information can be translated into several types of barcode.
A typical example: UPC-A - Product identification, EIN 128 - for the serial number (to be used for warranties),or it may even include a 2D barcode such as DataMatrix or PDF 417. These are used to store large amounts of data such as manufacturing date, manufacturer, country of origin, weight and more - all condensed into one barcode.
Barcodes are often printed on labels that are placed on the the product itself. The barcode labels can also be placed on the packaging material used to ship the products. The U.S. Postal office uses PostNet